Tributes to Gerald Wilkinson

Angels H.C. have lost one of their Archangels. Gerald Wilkinson, one of the founding father of the Angels H.C. has sadly passed away earlier this week. Gerald passed peacefully in his sleep. One thing for certain he is with those other Angels and there is no doubt he and Jim will be watching over our efforts in Lahr this coming June so we had better win! On behalf of all the Angels past, current and those of future years thanks Gerald for giving us Angels H.C. We will try to carry on as you always played with passion, skill and determination and I sure, as you did, we will make a many more friends on the way at the same time.
Rest in peace Gerald.
Mike Hadden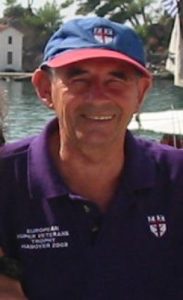 Gerald Wilkinson, co-founder (Archangel) and pioneer of the Angels H.C. passed away peacefully on 17th April after a long and serious illness.
Gerald, during his time playing for Guildford H.C. in the early 60s, assisted Jim Pollock in founding the Angels and organising the famous Angels tours commencing with trips to New York and Bermuda, followed closely by the tour of Jamaica and Bermuda in 1967 and of Rhodesia and South Africa in 1968. Many incredible tours followed in the 70s and 80s,visiting such exotic countries as China, Japan, Malaysia, and South America. He also played on many trips to the famous Lahr Black Forest tournament over Whitsun, starting in the mid-60s. He will be remembered for his darting runs over the right wing, and his unerring accuracy in shooting his many goals for the Angels in almost all known hockey-playing countries of the world.
From the late 90s, Gerald started his second hockey 'career', helping to form the England LX club for players of 60 and over. Till the very end, he was famous all over the world of senior hockey for his hockey prowess, scoring many goals for England LX and winning many medals and awards. He was still playing regularly as an 82 year old until his illness took toll last year.
Gerald was also respected for his great sporting spirit and friendliness on and off the field, and our thoughts go out to his partner in life, Birgit, who gave him loyal support over the many years, and their sons Philip and Benjamin.
I will miss him greatly as a good friend in hockey and in life.
Peter Child, April 2017