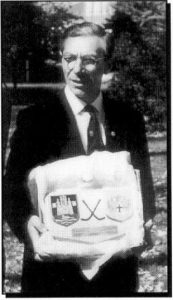 Hockey has lost a stalwart enthusiast of the game of hockey. JAMES (Jim) POLLOCK, who died on 14th January 2000, aged 80, is best known for the Angels Hockey Club, which he founded in 1963, organised and managed in his own inimitable style during 36 years.
It was one of those typical Saturday evening sessions at the Guildford club bar in 1962 that a visiting Reigate player spawned the formation of the Guildford Angels, later to become known internationally as the Angels H C.  The Reigate player's comment to Jim Pollock and Gerald Wilkinson, 'I have just returned from New York where I met with the Privateers H C who asked me to enquire as to whether there was any likelihood of an English team being prepared to visit the 'States'. Jim turned to Gerald and said , 'Why don't we do it'.
After one year of weekly meetings together to organise the tour, a team of both men and ladies set off for New York, Washington and Bermuda – a first for an English club. Greetings from the Guildford club were given to President Eisenhower in person at a reception at his Gettysburg estate and a Guildford shield presented to him.
The increasing number of adventures of the Guildford Angels eventually became too wide-ranging for the Guildford club alone and 'The Angels' came into being in their own right as one of the leading foreign touring clubs in Britain, going on to play in over 40 different countries and in many instances more than once.
The number of players who have played for the Angels over the 36 year period is probably a thousand or two since no accurate record has been maintained. Players of international, county and club level, both men and women, were recruited to play for the Angels in places as far flung as China, Japan, Outer Mongolia, Fiji, Russia, Morocco, South and East Africa, Canada, India, Australia, New Zealand, Argentina, Chile, Peru.
Although Angels players were drawn from all parts of England and Scotland and even from other parts of the World there was no home base. Jim, with the help of Angel members, has acted as hosts in England to numerous foreign touring teams. The Hadrian Tournament at Newcastle came into being at Jim's instigation and for some years became the Angels annual home fixture.
A special rapport evolved  between the Lahr (Whitsun) festival in the Black Forest, Germany, and this has been attended on at least 25 occasions by both mens and ladies teams. This biennial, laterly annual, visit to Lahr is still continued to this day.
There are many hockey players who will have fond memories of an Angel tour to somewhere in the world and here we have collated some of their stories, photos, anecdotes and tributes.
Ian Harris, Elizabeth Hunter, Gerald Wilkinson